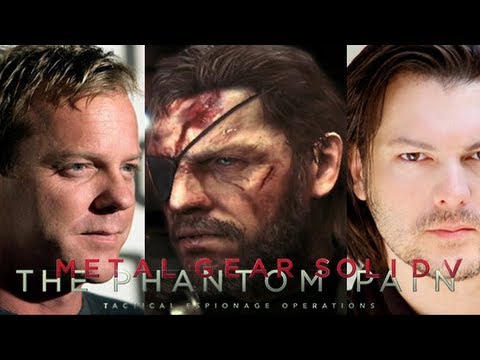 So one of this year's biggest releases will be Metal Gear Solid V: The Phantom Pain due for a PS4 and XB1 release on September 1st, and for the PC on September 15th. There's been no shortage of drama and spectacle surrounding the game, but I'd just like to focus on the Hayter-Sutherland aspect.
To briefly sum up the aforementioned spectacle first, though, I'll just do a short summary.
Producers Konami have axed director Hideo Kojima as an executive from their company, making him a contract employee until the game is released and presumably ending their working relationship thereafter.
There have been huge, dramatic trailers released at each of the last three annual E3 shows, and several more besides.
It's been unpopularly announced that the full-priced game will include micro transactions.
The game is reported to be gigantic; one of the biggest and most alive game worlds ever created and definitely the biggest Metal Gear game made so far. Production has been so big and taken so long, in fact, that the prologue to the game, Ground Zeroes, was released separately in March 2014 as a stop-gap game that could be beaten in an hour. A unique move, for sure, and again, not one without its detractors.
One could add that Kojima said of most of the last big Metal Gear games that they would be his "last game" and that's always turned out to be untrue. Well, until now I suppose. He's not likely to be working with Konami again and they own the franchise despite it being Kojima's baby.
The game's earliest controversy though was replacing the lead character Snake's voice actor from David Hayter, who's always voiced the Snake character (well, since Snake had a voice, at least), to Kiefer Sutherland, who portrays bad-ass, gruff, violent freedom-protector Jack Bauer in 24. This has been known since 2013 and it hasn't sat well with fans who see it as a betrayal, particularly since Hayter was never consulted or informed of the change and learned about it at the same time as the general public. Dick move, Kojima.
Hayter has been commendably mature about the move. In a video interview from March this year (linked below) around the 15 minute mark, you can hear him say that he's glad it took someone like Kiefer Sutherland to replace him in the role. The role obviously meant a lot to him though. Later (around 27:20) in the same interview when asked what he thought of the Phantom Pain in general and whether he'd play it he said that he wouldn't play it as it would be "too painful".
There have been no shortage of rumours and theories that Hayter will make an appearance in the game but he and Kojima have denied this several times in no uncertain terms and I think it's just wishful thinking by the fans. The move has netted far more bad will than good so it seems extremely unlikely that they would continue to hide his involvement, if there were any to hide.
I remember Kojima saying that they wanted someone more dramatic for the role of Snake for this project. Sure, okay. That's your prerogative as a director but you could have let Hayter down a bit more respectfully. He's been Snake for 15 years. I had no sympathy, then, for Kojima when hearing earlier this year that Konami were basically firing him.
But I digress, my point was that I'm coming around to the thinking that a new voice was important for this game. This game is set in the 1980s. The very first Metal Gear game was made in the 80's and featured Solid Snake (a clone of legendary soldier Big Boss) fighting the villain Big Boss.
In Metal Gear, Metal Gear 2, Metal Gear Solid (MGS), MGS2 (partly), and MGS 4 we play as Solid Snake , the clone and hero in settings from the 1980s onwards. In MGS 3, Portable Ops, Peace Walker and now MGS V we play as the original Snake who becomes Big Boss from the 1960s to the 1980s. In game-world time, Peace Walker is the last part of the story before V (which is itself Ground Zeroes AND the Phantom Pain) where Snake is still the hero, and presumably by the end of The Phantom Pain, our beloved Snake has to become the villain. Therefore, we're bound to see some very marked changes in Snake's character. We know from trailers and screenshots that mutilation and injury will have a part to play, but so too could the voice. This is bound to be a dramatic chapter in a dramatic game series and Kojima wants to play to that.
The MGS games have always tried to be two things. One; cinematic, dramatic stories and two; grotesquely self-aware, exploding the fourth wall at every given opportunity. It's hard to be both. It never sat perfectly well for me and I think that with Phantom Pain they're gunning more for the dramatic elements. For me, I somewhat agree that Hayter wouldn't be a great choice to deliver on the drama. Check out the video below for synopsis of Hayter's Snake portrayals over the series.
I think he's a great actor, and it's a very distinct voice. It's a classic by now! But for the last few games the voice has struck me as a little over the top, and seeing them lined up together like this highlights that. It's become less realistic and more exaggerated, verging on silly at times. This likely wouldn't work well for a villain. We've become so accustomed to Snake's character as the hero with Hayter's voice. Assuming that he has some difficult choices to make and evil things to do in Phantom Pain to become the villain Big Boss, it could seem too out of character for the Snake we've become so familiar with. That voice has also been party to the fourth-wall breaches I mentioned earlier and maybe the association would be too much. The character has to undergo huge changes over the course of this game. Why not the voice too? Would be be able to follow Hayter through those changes?
We already have a good example of the change in Snake's character. There's a bajillion trailers for The Phantom Pain but I refer you to "Quiet Trailer" below. In it, we see Snake do a good guy thing by ordering the men not to shoot Quiet, but also the foreshadowing of evil deeds with what he says afterwards. Also, notice the camera works here to show Snake's "bad side" as he delivers the line. The shrapnel injury in his skull already looks like a devil's horn.
How about that? Can you imagine David Hayter delivering those lines? I honestly can't. If you'd like to try you can watch the Ground Zeroes ending with Sutherland's Snake voice replaced with some old lines of Hayter's. I know the lines are out of context, but even so I don't think the tone fits.
What I'm getting at is, maybe Kojima made the right call. As director it's totally his decision, but it sure rubbed fans up the wrong way, and he definitely handled the switch like a world class prick, but for the game as art, I'm starting to think it was the right call. I never cared about the change quite as much as hard core MGS fans did. I just kind of cringed at Sutherland doing basically a Jack Bauer in the new MGS game (I'm a big fan of 24 bear in mind, nothing against it or Sutherland in general) seemingly just because he's a bigger name than Hayter. I saw it more as a marketing decision than an artistic one, which bugged me, but I'm definitely starting to see the artistic merit to the decision.
That said, I still love Hayter's classic Snake, and feel for him in the situation he's in. Particularly with idiots constantly bugging him to confess that he's in the new game somewhere secretly, or even more wildly, that Sutherland's Snake isn't the real Snake and we'll see Hayter in Phantom Pain as the real Snake after some plot twist. Leave the guy alone, like! He can only say 'no' so many different ways, and he's made it clear that, while he acknowledges the merit of directorial discretion, he still feels pained by the loss of the role. Read his statement from 2013 here.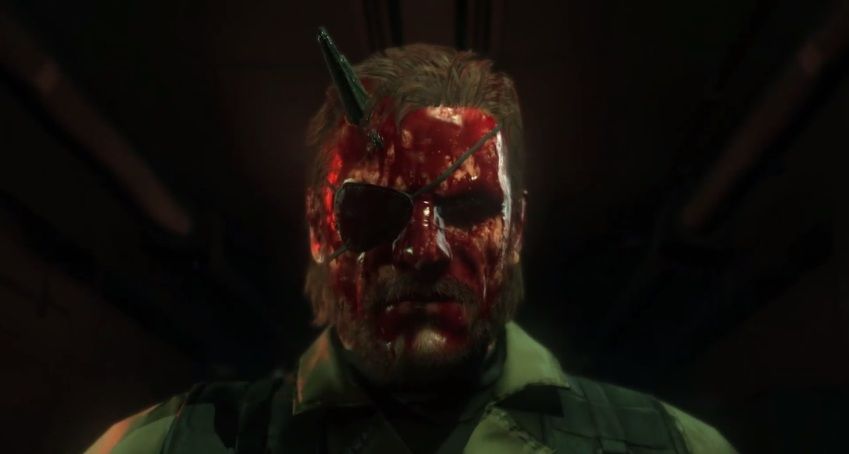 That's all for this week. What do you think of the switch? Has what I suggested occurred to you before and what do you think of it? Do discuss. There's comment boxes below for a reason. Peace! (walker)