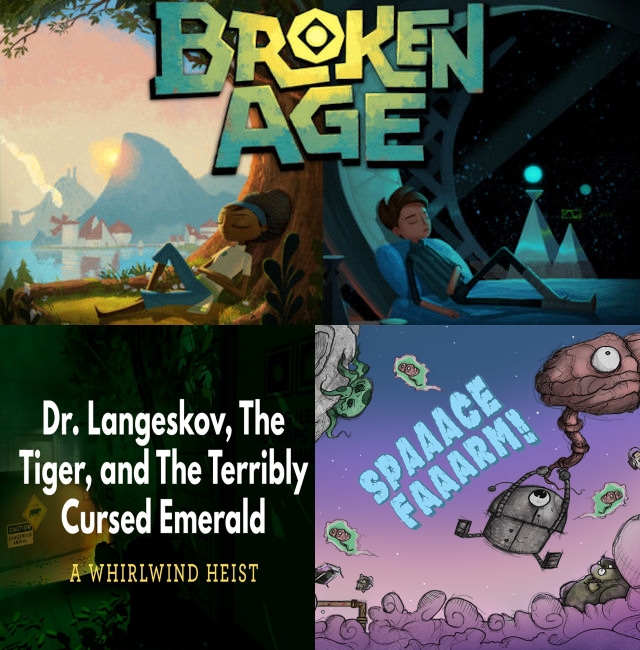 Welcome back to the Player Too series, where I slowly beg and cajole my patient girlfriend, Claire into playing games with me as I document the process.. more or less. It's been two months since we last left off.
This is the first entry of 2016, and also my first non-technical blog of the year. I've been looking to write less and develop more, but I haven't given it up. The current pace seems to be one post per month instead of 2015's one-per-week. The breather has been nice. Sons of Sol is also coming along more quickly and I imagine the newly found downtime allowing me to just chill sometimes is partly responsible.
In the past few months we've tried a few new games that were all very successful for Player Too (i.e. Claire liked them) and which shared some commonalities ('similarities' is so last week). Those would be that these games were all cheap (or free), humorous, and you couldn't die. Spoiler alert; we'd recommend them all! First up..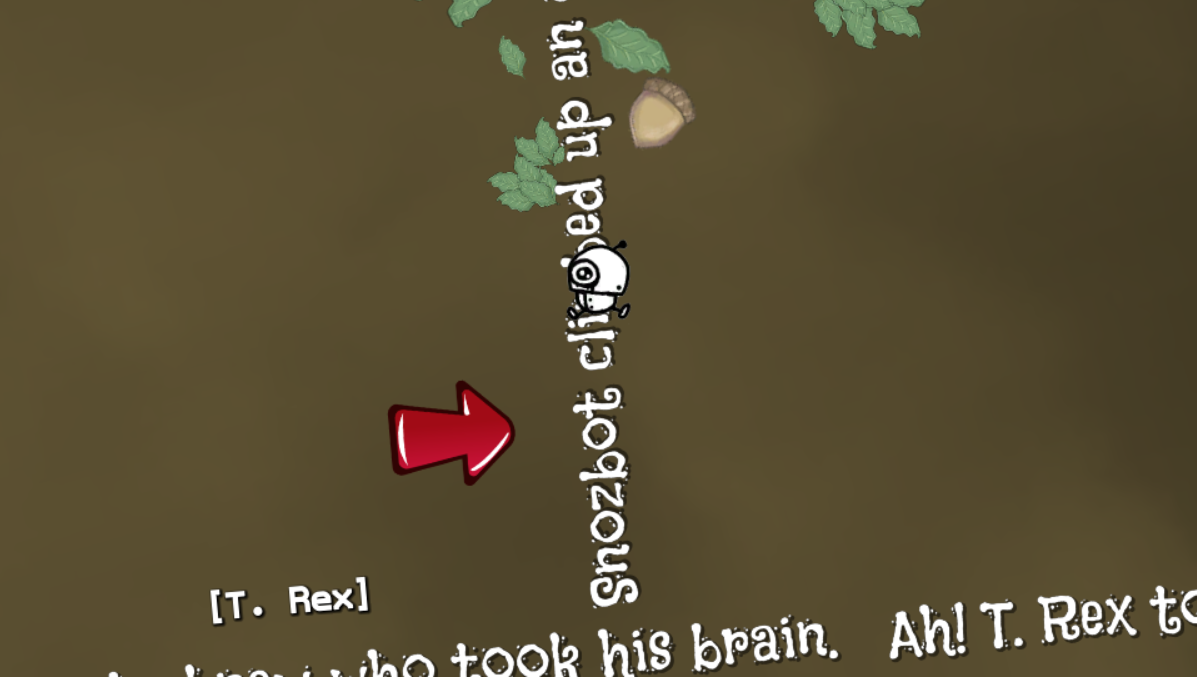 Despite the name, it's not a text adventure. It's more akin to the funnies section in a Sunday paper (do those still exist?..) by way of a platformer. It's a five minute (less, probably) experience in which you've little in the way of challenge or gameplay, but you're just along for the humorous ride. It's the 4th entry in the Spaaace Faaarm series by Snozbot in Ireland, which is still releasing episodes regularly.
Snozbot are the guys behind the Fungus tool, a free plugin for the Unity game engine that excels in simplifying the development of narrative or text driven games (or those sections of larger games), to put it simply. The Spaaace Faaarm series (as well as Pipsville) is something of a free sample set of the great things that can be made easily with Fungus. That's great for us because it means there are some fantastic free games being made on a regular basis. Think of them as 5 minute comedy sketches that are loosely tied together with some common threads and references and you won't be too far off.
Snozbot's Text Adventure is probably the most game-y entry in the series so far. You play as Snozbot, a robot who wakes up to find that his brain has been stolen! Oh no! In a quest to find it again, you platform around the environment, but with a twist. The platforms and floor are all made out of the words that are narrating the story! The simplicity and beauty of this design instantly blew me away the first time I played it, and the same for Claire when I showed it to her. The carefully chosen words, sentence structure and the animations on choice verbs are delightful.
The tone is adorable, the characters, gags, and resolution are heart-warming, and the writing is hilarious in a Pixar kind of way.
To say more would be to spoil it. You could play it in as much time as it took you to read this far. Do play, and check out the other entries if you enjoyed it. I particularly liked episode 6 – Cooking with Cthulhu.
Player Too Result:
I actually heard Claire squealing with delight at some of the gags and revelations, and she laughed throughout. Who doesn't like good comedy?! What surprised me was her instant enthusiasm to see (and create) more of the same. So I briefly explained what Fungus was and how it worked and she was all up for tackling a game jam with me some time in the future. To paraphrase here "if games can be like this then, yep! Count me in!".
That's the thing! Games are so much broader than just Call of Duty or Civilization. I knew we could find a genre Claire would genuinely take to, not just enjoy-but-please-stop-making-me-play-your-stupid-games.
Look out for a Player Too game jam in the coming months, so, hopefully!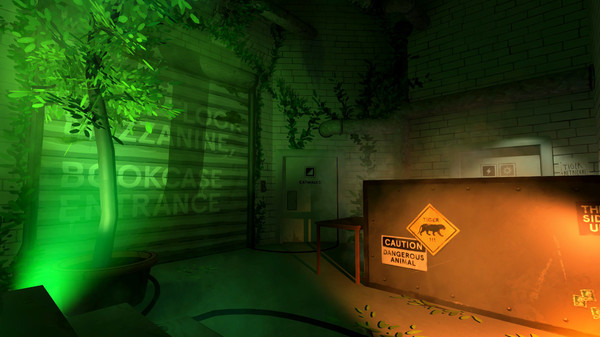 While this is a short game (finish reading the title and you're probably a decent way through already), I can't believe they charged no money for this! It's hilarious and really enjoyable. As with The Stanley Parable (many of the same developers/writers were involved, including William Pugh) this game defies a summary, though I shall attempt one.
It's a comedy experience with a very British sense of humour. I remember thinking that if the Monty Python guys made games, this is probably what they'd be like! Again, just play it. It's free. It only takes a few minutes. Play while dinner is in the oven some time and your life will be better for it!
Player Too Result:
I broke a Player Too rule with this one in that I played and Claire watched. It was only a short game at the end of a long day and she didn't want to 'steer' so I did, but I still think that creates a barrier. If you're trying to interest someone in something, let them do it! I can name countless games from my childhood that I've seen but never played because a friend wasn't so generous with giving others a go. Starcraft 1, Descent and Baldur's Gate were games I may have loved, and I saw many hours of them, but I'd no idea how they felt to play and can't call myself a fan, really.
Stop! Digress time! There was little missed though in Claire not playing herself this time around and we both laughed through the experience. She's played The Stanley Parable demo before and really liked it, but as she hasn't played the full SP yet I've held off on writing about it in this blog. Playing Dr.Langeskov has bumped Stanley back up to the top of our list (next to Life Is Strange, which we've started but not gotten very far in yet). Again, we've found a game that Claire really enjoyed and would like to see more of. Humour goes a long way in endearing you towards something, and Dr.Langeskov oozes finely crafted, excellently timed humour.
Okay so, the "real" game. The high profile one you may have actually heard of, seen in shops, and can pay for.
Loved it!
I'm not personally an adventure game fan per se. I played bits and pieces of them before but never actually owned a Lucasarts or Sierra one. I bought the Grim Fandango Remaster last year and it was the first time I'd played it outside of the original demo. I also gave up on it by the second chapter, so I wasn't going to be the one championing the genre to anybody, though I knew that shouldn't stop me from seeing if Claire liked them.
A "Daniel" commented on the very first Player Too blog and recommended this, so thanks for that, but our coming to play it was a little less direct than that. I read PC Gamer's The 50 Most Important PC Games of All Time article and there was an entry for Broken Age. They liked the game and all, but were touting its importance as a Kickstarter project and how the Double Fine Adventure documentary on the game's development had been a very important insight for the public into how games are made, particularly in an era of crowdfunding.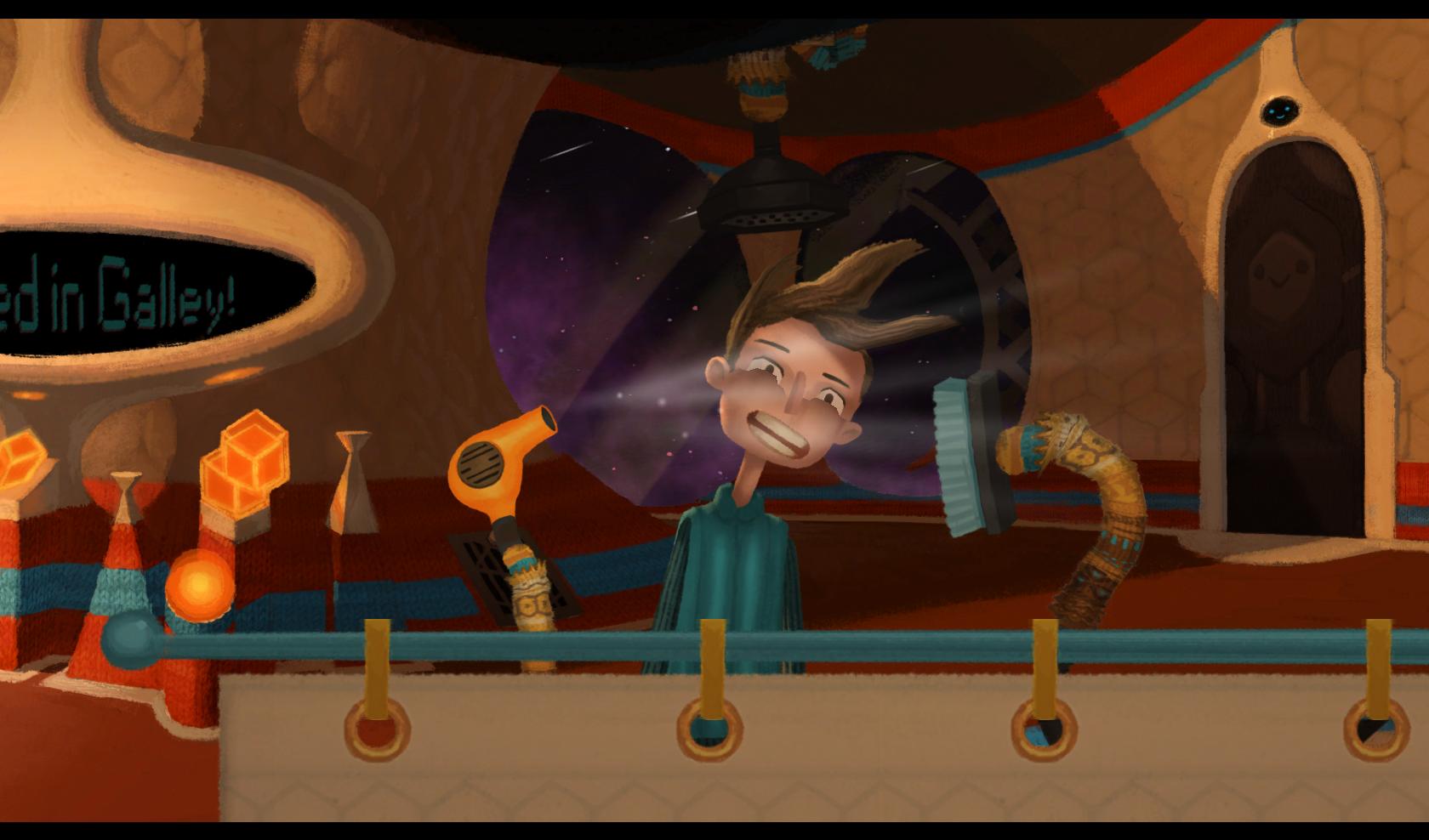 I'd forgotten that there had been such a series and started watching it while making dinner in the evenings. Claire joined me a few episodes in to it. Won over my Tim Schafer's charm (who wouldn't be?) and rooting for the hard working people at Double Fine who were putting their hearts and souls into Broken Age's development, Claire decided that she'd like to play the game, so we got it.
This was her first adventure game, but the formula isn't too complicated and Act 1 of the game is actually beautifully balanced for new players (we think, anyway) so she took to it right away. This is actually the first game she's played that I've seen her come home to and want to play. To tackle a puzzle or just move the story along. She really enjoyed it. I never came to suggest (as with many of the other games) that we sit and play together for a while or convince her to return to tackle a challenging puzzle. She just grabbed her laptop and launched the game because she truly wanted to. I really enjoyed watching it too, and was soon convinced to start my own playthrough. We both finished the game at almost the same time yesterday, hinting each other through some of the frustrating final puzzles as we arrived at the final confrontation pretty much neck and neck, each on our own machines.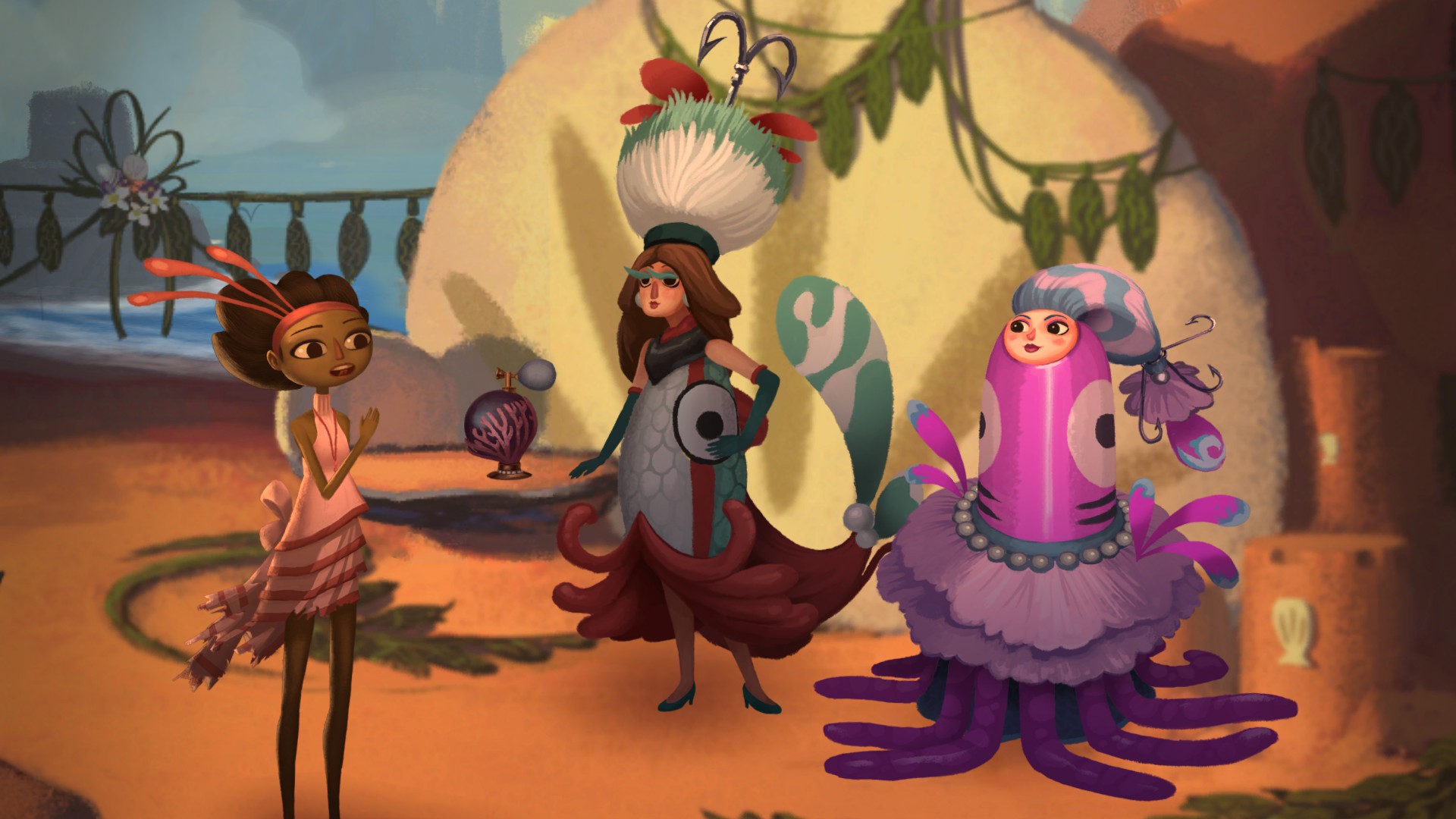 I hardly ever laugh out loud at anything (I'm dead inside, you see) even if I find it funny, but I laughed at this a lot! I also found the game to be a much smoother experience than older adventure games. There weren't any puzzles that I solved by blindly trying every item in my inventory against every item in the room. Broken Age always left me with a few working theories, and Claire said the same. There are two lead characters; Shay (Elijah Wood) and Vela (Masasa Moyo) whoa are both teenagers disillusioned with their worlds, albeit for quite different reasons. The genius of the game (whether it was intended originally or not, I'm not sure) is that who you can swap between both sides of the story at will, meaning if you're ever stuck and feel frustration coming on, you can swap characters and try out the other puzzles for a while. This will also often lead you to hints in one world that spark an idea of how to solve your problem in the other, and it's actually required to solve some of the last puzzles.
The symmetry in the game is fresh and very well done from a gameplay point of view, with each character getting equal screen time and equally challenging puzzles. My only criticism (if I'd even call it that. More of a 'huh' moment) is that this doesn't exactly extend to the narrative side. Throughout the game, Vella is the one directly confronting overwhelming odds and rallying people to her cause, while Shay is struggling to catch up. Vella's achievements narratively carry a lot more weight than Shay's. That's fine; their stories are different and the first 5 minutes of each thread make it plainly clear that each lives in a very contrasting world with different things at stake, but after watching the final cutscene for the second time, I realised that Shay didn't exactly do anything in it. This was Vella's moment. Shay didn't contribute in any substantial way to changing the world for the better or saving people, either during the game, or come the ending. It was all Vella! She's awesome! I love her (bit of a crush, actually)! I love Shay too, mind you. He's amazingly voiced and carries the adventure game tone perfectly. But for a game that champions symmetry in almost every aspect, from box art to intertwined puzzles, this stood out a little. However, we get an even more awesome heroine for that, so I'm not complaining, and I'm really stretching just to get even that one criticism in (well, I could mention one or two very minor bugs but who cares?). This is a fantastic game with a great story and Claire and I enjoyed every minute of it!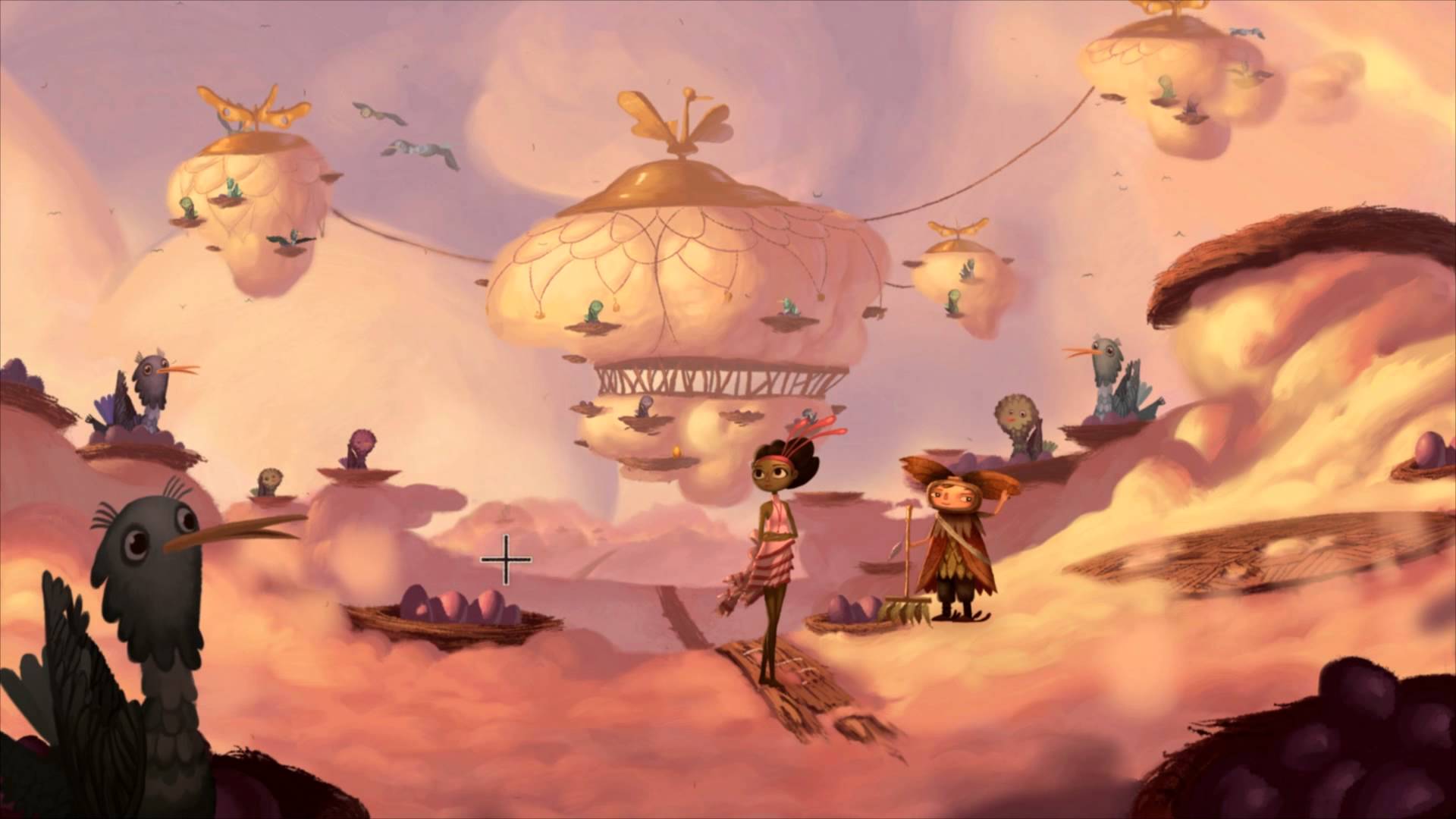 Player Too Result:
Very positive! We should take into account though that watching the documentary predisposed us to appreciating every little detail that went into the game. We were rooting for Double Fine and for Broken Age before we pressed play, and that's an unfair advantage it has over any other game we played during Player Too.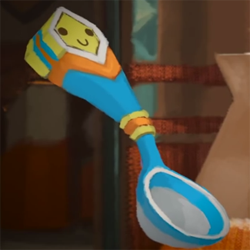 But it is what it is! The fact is that Claire played a game and loved it! It was a Tim Schafer adventure game. She wants to play more. As there's no Broken Age 2 (which she said she'd definitely buy/back) Claire's up for trying Grim Fandango next. Would Monkey Island be a better choice? Or Day of the Tentacle? The pixel hunting and complex unintuitive puzzles of the second chapter made me quit Grim, but I've never tried the others. Were they worse for this? None will have that Broken Age advantage of swapping characters when you're stuck (that I know of). Broken Age was also designed with those older frustrations in mind and they were deliberately minimised. The trick here will be finding modern adventure games to play in an era when they're just not made, or finding old ones whose puzzles aren't typical of a time when impossibly ludicrous puzzle solutions were the norm. Recommendations very welcome!
Next Time on Player Too
Well I've sort of said it already. Grim Fandango or maybe Monkey Island (please make recommendations) is on the cards, as well as (at least the demo of) Life Is Strange and the full version of The Stanley Parable.
More Snozbot games will be played, for sure, but they're all under 5 minutes and free so I won't write each one up. Text Adventure was just a gem I had to share!
Telltale games are kind of on the back burner after the failure of Game of Thrones to do anything for us in episode 4.
Skill based games like Portal are still out but the Stanley Parable may improve first person movement skills to the point where Portal could be tackled, because who doesn't like Portal?!
Until next time..