So this is kind of a 40 year old virgin situation. It's 2015, I'm a 28 year old gamer and now game designer, first person shooters are probably my favourite game genre, and I've never played DOOM. It's been out for 22 years now and is a piece of gaming, nay, world history. I'm also even a history fan so no excuses there! Even with the 40 year old virgin you can't say Steve Carrel's character had 40 years to have sex, because you'd have to reach adolescence to even be capable of it, whereas I was playing games since I was 7. So let's say that at twenty-odd years of missing out, your life is starting to turn into comedy movie material. I had to rectify this situation, fast!
I should say that I've seen it played a little at friends houses as a kid (but if you haven't gotten your hands on it, you haven't played it, in the same way as watching porn won't pop your cherry for you). I've also played Star Wars Dark Forces which was a blatant DOOM copy cat, but I haven't played the original.
I've also never played the Quake series, Hexen or Daikatana. You might think I had something against id Software, John Romero, or any affiliates, but that's not true as I did always love Wolfenstein (1992) and Commander Keen. In fact I think Keen IV was the very first video game I ever played. Anyway, I've decided to rectify this situation and took to Steam and GOG two weeks ago to see which games I could pick up and work my way through (mental note: add Unreal 1 to that list).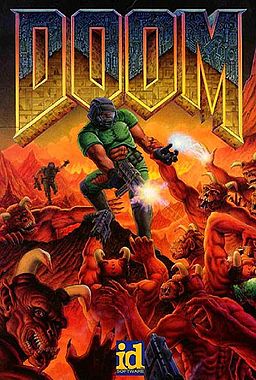 I bought "Doom Classic Complete" (because I'm a grown up and can do what I want, mom! I might just stay up all night playing it too!) and loaded up the Ultimate Doom version of the first game. I remember thinking the game was scary when I was younger, and I know that older games didn't hold your hand at all when it came to difficulty, so even though I'd have no hesitation playing Call of Duty on the hardest setting, I loaded up the "I'm too young to die" difficulty (easiest) and hopped in. I do have to say that I never died unless crushed in a trap though, so I probably should have started higher, but it still got me for plenty of jump-scares, and I beat Alien Isolation on Hard mode. There might be something to this DOOM..
I knew how different the game was to modern, polished shooters, but marvelled immediately at how much they owed to this, the second ever FPS game (at least the second where it's humans shooting guns, not tanks or wizards – I'm counting Wolfenstein 3D as the first). The weapon bobs as you move and recoils as you shoot. The sounds give the guns a real punchy weight. Barrels explode if shot (even chain reactions are possible and actively designed into the levels). The death animations, while already established in Wolf, are visceral, gorey and lively, with soldiers leaping and spinning, and generally surpass their predecessor. These are things that I've seen missing even from a small handful of games made nowadays (okay never the AAA titles but still). With twenty years to learn from the masters, none of these things should be ignored with modern shooters, yet we can still find poor animations, static guns with lame shooting sounds, and otherwise very little attention to detail. DOOM was a benchmark game at the time, sure, but to place it alongside some shooters made today by teams larger than that of id software in 1993 DOOM could still beat them hands down. Why?
Well, all of those things I mentioned above make the game FUN to play, no matter what else you've played in your life. That, and the shotgun! Oh my God the shotgun is PERFECT!! I've never played with it before. It was like seeing the Light of God (albeit a violent, vengeful God… like the Old Testament one). I thought I'd seen a few good shotguns in games but nothing like this. I had as much fun playing with this shotgun as I did shooting clay pigeons with a real one! The game holds out on you for a few minutes, making you make do with the pistol to get you used to taking a few shots to put down an enemy, and then BAM! It grants superpowers worthy of Superman.. if Superman had a shotgun! It's not even the best weapon in the game, but it's one of the ones you'll use the most.
It's got a real weight to it, again through its sound, but also through its cocking animation, which is all it needs to be, and must have blown minds in 1993. The rate of fire is just fast enough not to be frustrating, but slow enough that you are really rewarded for lining your shot up perfectly before pulling the trigger, then seeing the weapon's wide spread and heavy damage one-shot the game's lower-difficulty enemies and send them spinning! It's a perfectly tuned weapon for a game as fast paced as DOOM. You still have to check those corners and be wary of ambushes so as not to die, as the shotgun can only help you in the direction you're facing, but it is just a thing of beauty. It made the game what it is, no doubt.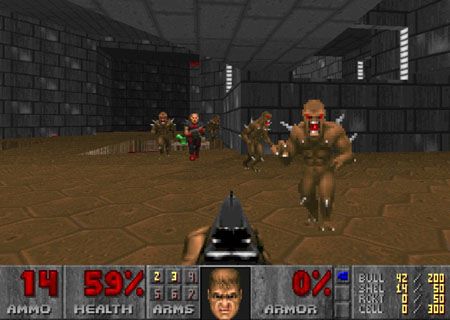 In terms of level design, my praise has to slow down just a fraction. The levels get very clever, don't get me wrong, and they develop a language of their own with the player as to what they might be able to expect from a given area, but let's just say games have come a long way in this area. DOOM actually has a sliver of a story to it. Supposedly I'm on a moon base, then in hell later on, but you can barely tell the difference, and the moon base does not feel like a place where anybody could actually set up a research or military installation. There's some computer screens around, sure, but this place is a maze, has no railings over its mandatory acid pits, is full of secret rooms, and it has no windows! Must be a moon with a Southern Californian climate, then. I spent most of the game following my personal rule for if I ever get lost in a maze. Follow the left well all around, with no breaks, and you'll get everywhere within the maze eventually, including to the exit. It works, though teleporters, key coded doors and ledge-drops kind of mess with my rule a bit. This meant that I never finished a single level in any less than x3 the recommended 'par time' for the level, often more, and I'd still usually have found 0% of the secret rooms. This is an old skool game based on replayability and high-scores, for sure!
The movement speed of the game is immense also. I played with the WASD keys and the mouse. It was strange not to be able to look up, but instead moving the mouse forwards actually moved the character. Holding W, moving the mouse up, and then (when I discovered it) the Sprint key, made for some laughably fast corridor traversals. The W key on its own makes you move faster than any human possibly could run. It's interesting though. That's just how shooters were back then. In an upcoming blog (or series of blogs) I'll be talking about how various limitations led to the creation of a lot of the game mechanics we're familiar with. I posit that the lack of a cover system or other good way to get out of the way of bullets made boosting the player's speed a necessity. It would be interesting to hear an original developer's comments on this. There must be an interview somewhere.. The speed could also be to reduce frustration while backtracking through the impossibly labyrinthine levels, though.
Anyway, I did beat the game's original chapters on my low difficulty (though there's a wealth of extra levels and modded levels to play also) in just a few days of playing one or two levels per day. So I've popped my cherry. And it was good! I have to say I really enjoyed the game. So much so that I loaded up Doom 2 straight away (on a higher difficulty) and, upon discovering the Super Shotgun, got over-excited and… well, I'll drop the dangerous metaphor there and just go literal, saying that I played way past my bed time (well I'm an adult, I can do what I want, but still) and I think I beat half of the game in a single sitting. It's harder to tell because Doom 2 doesn't give you a map of completion after each level. But that Super Shotgun… with the newer high-res pixel graphics (of 1994) are just so sweet, dude!
How crazy is it to play a new game that's 21 years old and still get excited about its graphical improvements?!?! That's got to be the magic of DOOM right there, or at least it's evidence of it. Pixel art is a timeless style, I think, and I've chosen to use it for my own game. Incidentally, you can play the latest build of Sons of Sol (still in very early development) here.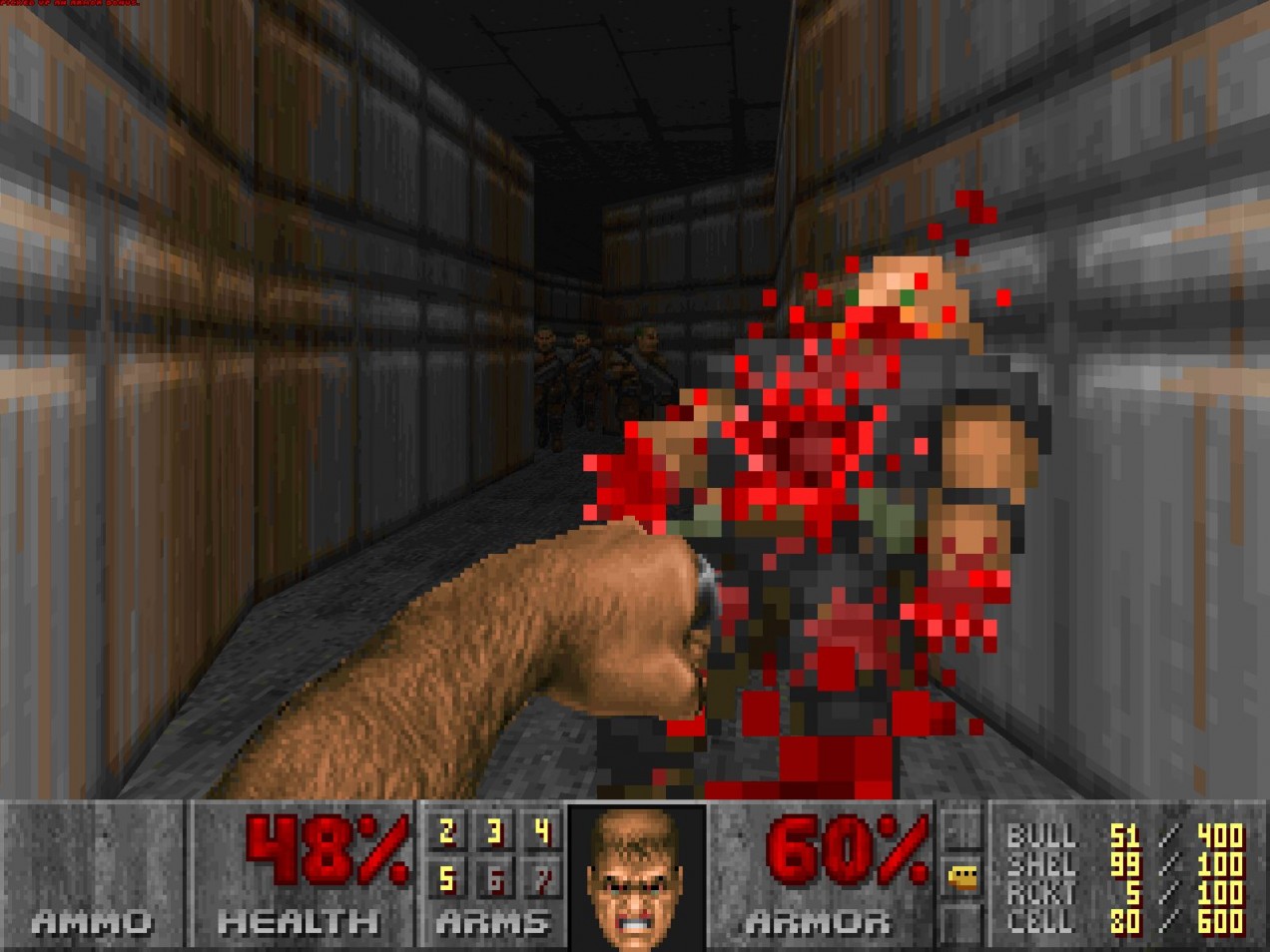 If you've never played the game and you're a shooter fan, I have to recommend DOOM. It's nowhere near as difficult to go back to as other games I've tried (like Command and Conquer (1995)) and it's a piece of gaming history! Deservedly so! Find out for yourself. After Doom 2 I think I'll move on to Quake. I hear NIN (Nine Inch Nails, the band) did the whole soundtrack! *smiles manically*
Until next time..
PS In researching for today's blog post, I came across a nice short documentary with id Software co-founder John Romero about id's early games, which heavily featured DOOM. Give it a look below.
PPS [written at a later date] Less than a month later, I'd play my first ever multiplayer game of Doom… AGAINST JOHN ROMERO!! Read how that went here.