Firstly, I won't be apologising for that pun, so moving on..
I intended for my blog this week to be a simple review of the game, as I haven't done a review on this blog yet and I'd had a lot of negative topics recently so that I wanted to start balancing them out. However, there's far too much to talk about here that doing a simple review would be missing the opportunity to take this game as a case study on a whole load of issues.
I do want to separate the discussion though because basically there's Arkham Knight as a game, a piece of art, and secondly as a product and its associated business decisions, and I definitely think that they deserve to be separated.
The Review Stuff
I wasn't going to buy the game because of its pricing (more on that later) but found it at a hefty discount and so picked it up. I played it on PC with an nVidia GTX 970 graphics card, 16GB of RAM, an AMD 6300 3.5GHz processor and normal HDD hard drive. A good PC, but not top of the line either. I also did have the latest nVidia driver released the night before the game and tailored specifically to fixing a lot of issues with Arkham Knight. The game ran fine for me and didn't affect my enjoyment, so I won't discuss that aspect in the review part.
This may be controversial, but I liked the Batmobile! Let's start with that. Many reviewers say that it's a huge flaw, crowbarred-in as an extra selling point, that the drone combat and puzzles that get you to use it seem forced and aren't that much fun, and that you're faster navigating the city without it. I disagree, mostly..
Let's be clear; the Batmobile wasn't an afterthought and wasn't done cheaply. It's fully developed, has its own upgrade tree, feels good to drive (maybe TOO good for something that weighty) and results in a lot of fun high-explosive gameplay that is the kind of thing we play games for in the first place, and Rocksteady fully committed to making it a part of the game. I can't fault them for doing that. They could have gone half-assed but didn't. The Batmobile plays as much a part in the game as the Predator levels or big-room fist fights do, which basically adds a fully-developed pillar to the game.
The question is; "did the game need it"?
Most are saying no, but I say yes. We've had Asylum, City, and Origins which have largely been the same game with new story each time (even if City opened the game into a more open-world style) and this formula was definitely getting tired by Origins. I'm glad they risked going for something new, and I'm glad it was the Batmobile. I've wanted to drive it ever since the first time you see it in Asylum. If they didn't try it we'd all be slating them for going 'Assassin's Creed' on the series, now wouldn't we? For not taking risks!
The drone fights can get repetitive, yes, but so can the Predator or combat sections, especially if you're trying for 100% completion. Most of the drone combat I did was in optional side-missions, but the main story paces all the gameplay pillars pretty well and making things go boom-crash is fun now and again!
Also, city traversal isn't slower in the Batmobile unless you've to reach a bridge to cross a river, so there! It just depends where you're going.
The Riddler challenges are tedious, and often involve the Batmobile, but they were tedious in all 4 games if you ask me so I can't fault the car for that. I will fault the game for including over 250 trophies to collect though. And collection them is required to put the Riddler in jail and get the 'full' ending. 250 is too many when not a single one of them is fun to do! They're the biggest chore and the biggest flaw in all 4 games, but they're optional.
My one Batmobile-gripe is that despite all efforts by the team to show the Batmobile as a non-lethal weapon (because Batman don't kill) there were tonnes of situations where I said "there's no way that guy survived that" and I just had to get over it and enjoy the game.
So that's the car, the big new selling point, and I liked it.
Story-wise, I think the game's fantastic, and through all the Arkham Games (except maybe Origins) it's been the primary thing driving me on. This is a dramatic and well-written conclusion to Rocksteady's Arkham trilogy (i say 'trilogy' because Origins wasn't a Rocksteady game, though Knight does give it the nod several times throughout, making it is canon). I won't give spoilers but there's plenty of drama going on, and it's not all driven by discovering who the Arkham Knight must be. There's lots of nods to and borrowings from the comics alongside new content. There are several set-pieces that I enjoyed. Rather than take me out of the game they enhanced the drama and I ate them up! The story also results in a number of sections where the entire game gets one major shift in how you have to approach it for a while, before returning to normal so you can continue your normal sandbox experience. More so than any of the other Arkham titles (possible exception of the first, Asylum) this game understands pacing and variety, and again, people may not realise that the Batmobile helps out in spades with this.
The drama leads me to talk about boss fights. They're still present, and varied, and I played several where I thought they must be the last fight of the game, because the stakes were getting so high. When the game didn't end it drove me straight onto the next one. I couldn't stop! This is huge praise for a story-driven game.
I loved how the Joker's legacy/ghost affects Batman and the world in this game, too. Spoiler here until end of paragraph: And no, he's not the Arkham Knight. That would be stupid. So Rocksteady didn't do it. Because Rocksteady are smarter than Splash Damage.
I do have to say that the other games had more memorable boss fights, though. Too many of these were glorified drone or Predator sections, but all the same, none were bad. Just none were as good as the Copperhead or Deathstroke fights from Origins or the famous Mr.Freeze fight from City. There are also slightly less of the supervillains in this game because the Arkham Knight and militia take up a large chunk of the missions, but this isn't to the game's detriment I felt.
Graphically (assuming here that you're on console or it's worked on your PC) this game is gorgeous with so many wind, rain, paper, rubbish, and environmental destruction effects going on. I can understand plainly why performance has suffered slightly in places for how beautiful the game is, and the trade off is well-worth it. I never suffered enough of a slowdown to affect my experience and the visuals stunned me repeatedly. Add to this the musical score, the idle conversations between and about all the various gangs and militia members, and the top class voice acting from Kevin Conroy, Mark Hamill, Jonathan Banks and John Noble, you have a game dripping with atmosphere. The complete removal of loading screens is a major help here too, and Origin's fast-travel system has been removed, forcing you to traverse enemy-occupied streets to get where you're going. The only downside to that is there's no Batcave any more, but I didn't even realise that until half way through the game as GCPD and a couple of other locations stand in for the Batcave's functionality. The police station fills up with all the people you've captured or rescued too, which is a great touch!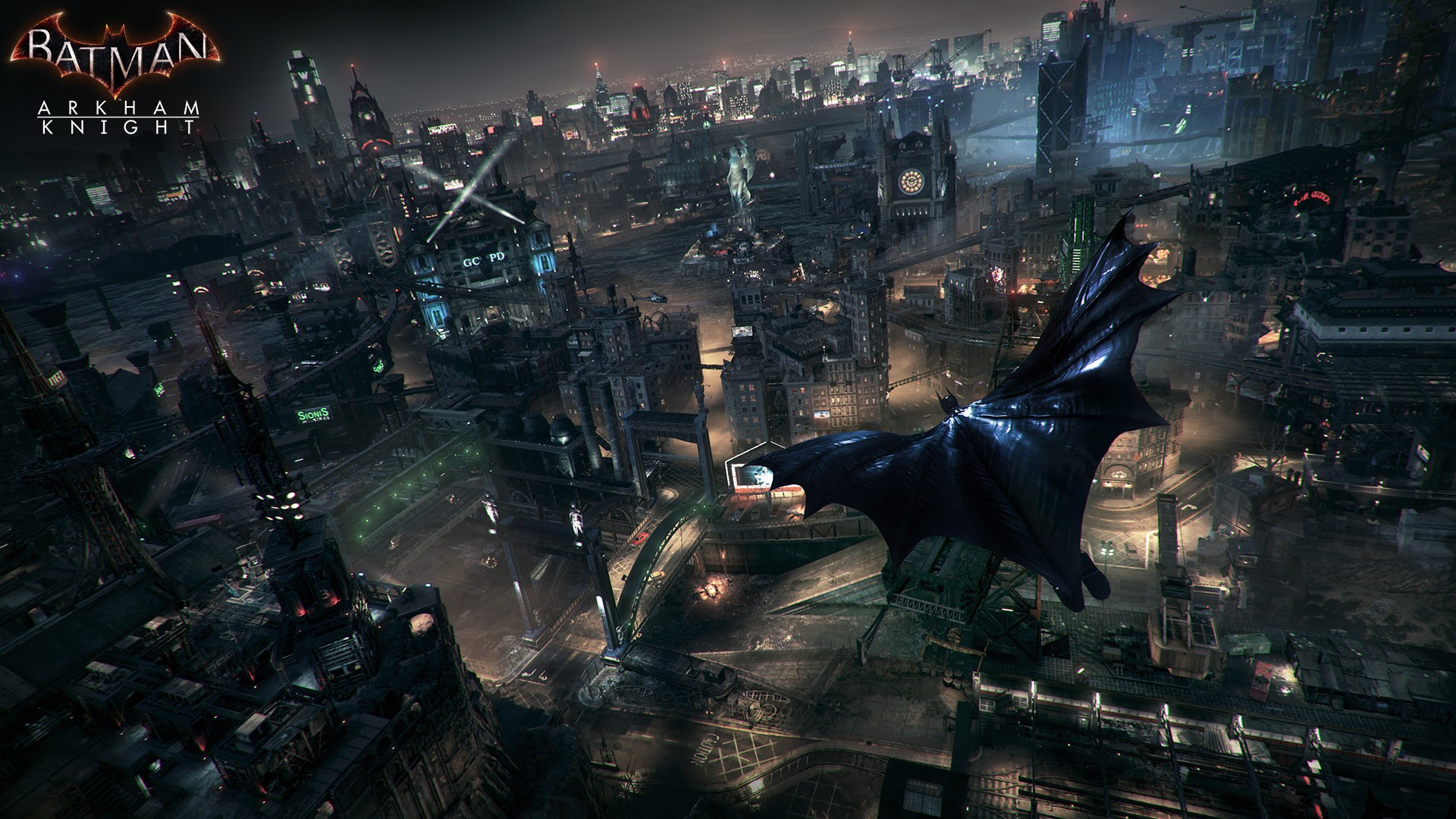 Lastly the combat. In each game Rocksteady expanded on their excellent combat system and improved it without losing the balance. With Origins, Splash Damage were so afraid to change Rocksteady's formula, to their discredit, and the only memorable change they attempted was shock gloves, which were overpowered and unbalanced the combat.
Knight removes the shock gloves (you can find them in GCPD's evidence room with a tongue-in-cheek explanation as to why Batman didn't keep them) and adds a number of new enemy types, enemy actions, and a few new player skills to counter them. Also, the upgrade tree is vast, and even after finishing the game I don't have all combat abilities and gadgets, so more so than the other games this is one where you really choose and develop your own fighting style.
The Predator sections have been touched up as well with enemies now able to learn your tactics (better than before), flush you out of vents with incendiary grenades, pair off into teams to thwart your ambushes, place mines and gun turrets, and control UAV drones which can also attack you. Don't worry though, you have the tools the handle the new behaviours if you use your brain and "be the Batman". This has really made the section of the game that most bored me previously into a fresh experience.
All round, I think this game is a great sequel (a rare thing), a great end to Rocksteady's trilogy, a well-paced and very-well balanced game, and a great example of what AAA publishers can do when they set their minds to it.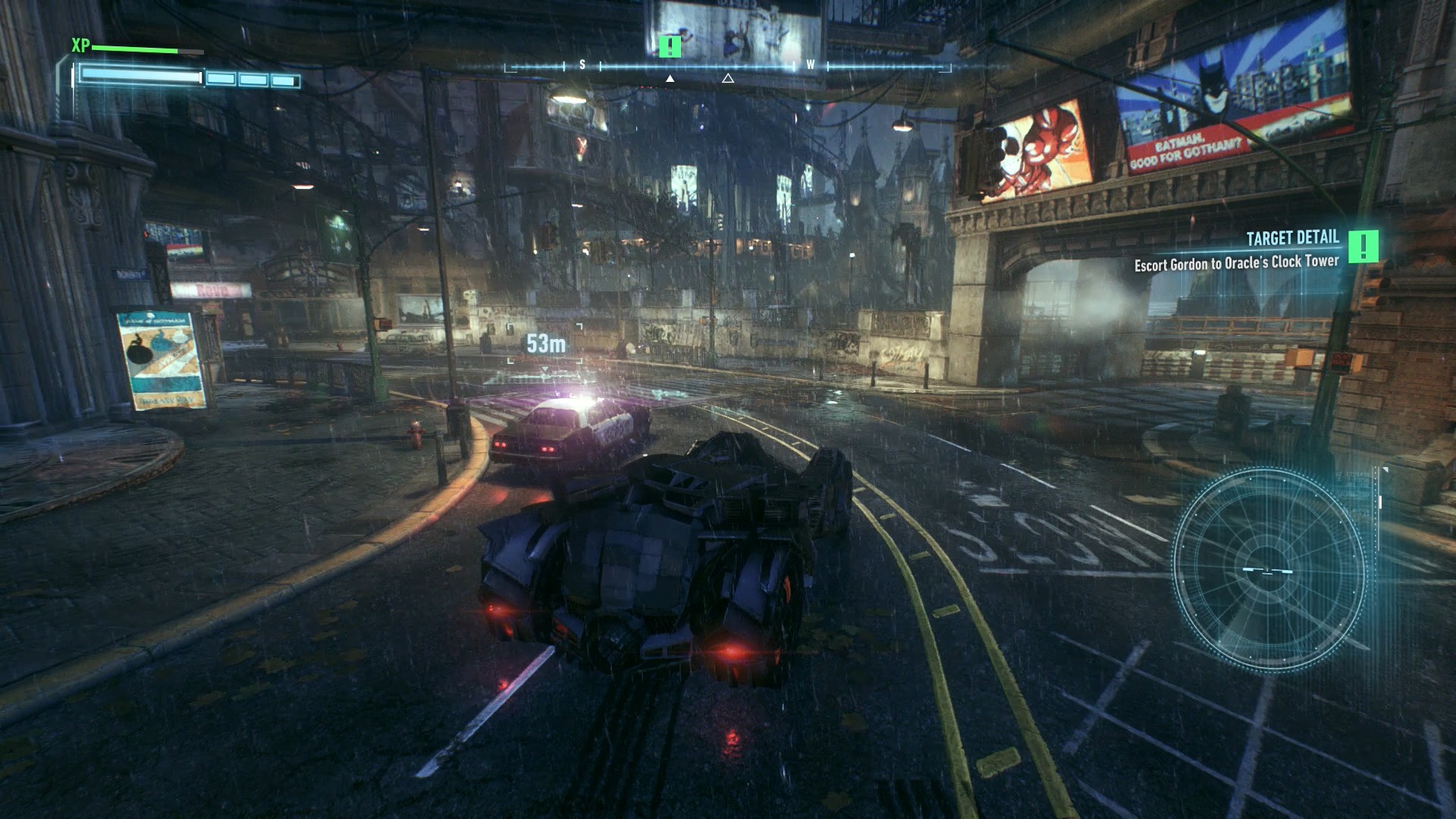 I don't really have a personal scoring system in place but Metacritic, if I average-out the PS4 and XB1 scores, comes to 85% and I think that's fair.
I just think that a lot of people, myself included, were far too ready to hate this game for other reasons. I'll now explore those reasons without having tarnished the game itself as a piece of art that hundreds of honest developers poured their hearts and souls into.
All the other stuff
Warner Brothers published this game, and have made a lot of enemies with their policies in the last few years. Arkham Origins (the most recent Batman release in 2013) came out the gate with a host of bugs and issues, and Warner Bros. basically said they wouldn't be fixing them because they were working on DLC for the game. Which is ludicrous! They expect people to pay more when what they've already paid for isn't working!
Then, short on good will, they are charging €40 for the Season Pass (six months of DLC content) for Arkham Knight. This is 2/3 of the price of the main game, and brings it up to €100 all-in. Granted there were discounts for getting them together at €80, but still it's a very high price for the Batgirl mini-story and a few racetracks and skins. Further, I don't want to be drip fed my €40 back in six monthly instalments. I'd like to play the whole game this week please, and move on. I wasn't going to buy the game myself in protest, but I did find it (with Season Pass) for €30 on Kinguin.net and relented.
The practice of working on DLC and charging more for the content before the game is even out and/or working properly is hugely unpopular with consumers, and, paradoxically, hugely widespread with developers. It takes developer time out of making a working product, so that they can ask for more money for 1.2 or 1.5 inferior products, instead of one good one. They carve up one game's content into the game, plus pre-order bonus content, plus later DLC content. Consumers lose nearly every time and they had no recourse.
Even with the 'Premium Edition pre-order' that I picked up, I somehow didn't get the Harley Quinn pre-order story DLC bonus thing, which apparently wasn't included in the more expensive version, only in the normal version. Just wtf?! Paying more up front in this case gets you less of a game on release than if you paid less!
In walks Steam's brand new refund policy, the hero we deserved. This deserves its own blog post as there are many angles on it. I'm not praising Steam for finally giving users a basic consumer right, but I'm glad they have.
The ability for a buyer to return a product for any reason (within limits, as laid out here) means that if a game is released in a sorry state, the buyer can simply return it. This at last pushes developers to stop releasing games in a sorry state, and here Arkham Knight is hugely important.
After less than two days, the PC version of Arkham Knight was voluntarily removed from sale on Steam by Warner Brothers. Why? Because the game wasn't fit to be released on PC in the first place. Not yet. As I said, I had no problems, but users with AMD graphics cards or just more average PCs found the game literally unplayable in many cases, or severely disappointing performance-wise. PC gamers tend to have an elitist, snobbish reputation, and having a game run less well than on a console rubbed a lot of them up the wrong way. The Steam user reviews for the game are "Mostly Negative" (I challenge you to find a positive one) and refunds were being demanded in droves.
With my finely-functioning game I'm actually in the minority on this one, and I still experienced a few bugs and body textures that never rendered properly when I got in-close. You always find some bugs in big games. There's a certain leeway granted, which I granted, but the game has to actually work! Hours before it went on sale, Warner Brothers ramped up the recommended minimum settings for the game, which is a huge deal if you bought it expecting that you could run it, and then were told that you couldn't. It's unacceptable, frankly, and until Steam refunds came along, I'm sure Warner Bros. would have taken a "tough shit" approach to customer care.
But they didn't. Instead they removed the game from sale. You can read their press release on why here but essentially it's been removed until it works, with no clue as to how long that will take beyond "Fall 2015".
I'd like to mention that Rocksteady didn't handle the PC port, and don't deserve all the ire here. Iron Galaxy Studios did the port (or were still in the middle of it, it sounds like) and Warner Bros chose to publish it rather than push the PC release date back. The game had already suffered lengthy delays in production, but unfinished is unfinished!
Okay, so bad decision there, obviously. It was a farce and will go down in gaming history as one of the most catastrophic releases of all time. I can't actually think of another game that's been removed from sale after release for performance reasons, and examples of games that should have been are in no short supply. Assassin's Creed Unity, Sim City and Battlefield 4 all leap readily to mind.
But Warner Bros. are owning up to it. They removed their own game from sale and even linked readers to the Steam refund page directly in the press release. Would they be so eager to appease if not for Steam refunds? Hell no, would be my guess. But they are, and deserve a modicum of credit for that, at least.
Consumer faith in the industry, particularly in the bigger publishers, is at an all-time low. Delays, DLC, and broken releases are now expected and it's hard to look at big upcoming releases like Battlefront with anything better than very cautious optimism, never mind fanatical hype. Publishers were incentivised, through the unavailability of any refund policies, to release unfinished games and move onto the next one, letting the game's problems get fixed in a later patch, or by the modding community, or just never. This feels like the first time in recent memory that we can put a point on the consumer's side of the scoreboard. Hopefully this will force publishing houses to cop on already! We need more faith in the industry because if consumer good will keeps being abused the way it has been, people will not be pre-ordering big games, will buy them less often, and expensive AAA games like Arkham Knight would simply not get made any more.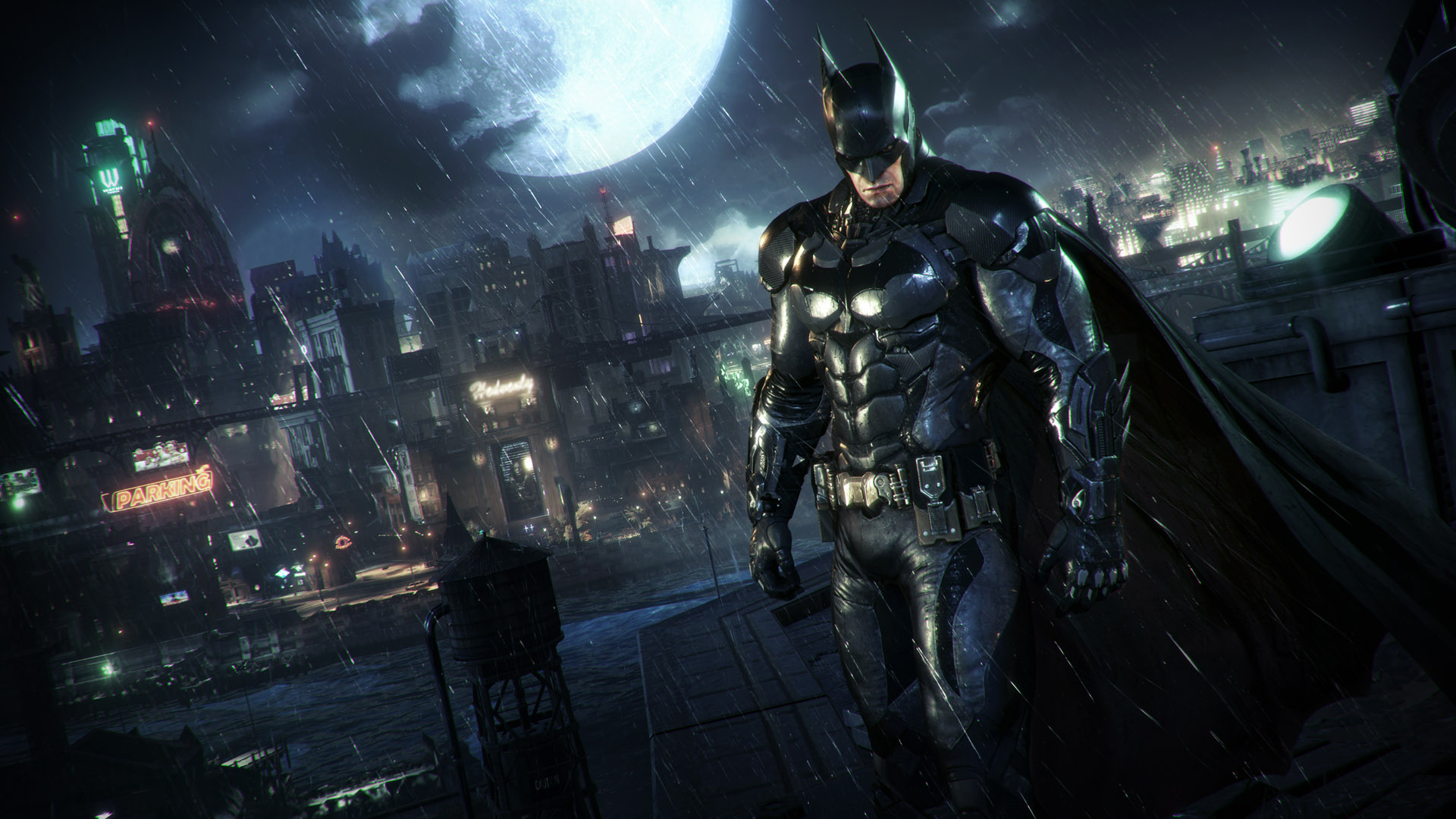 I, for one, am glad that Arkham Knight exists, glad that it had a botched PC release, glad that it was taken off sale, and am hopeful that this marks a turning point in publisher behaviour and consumer confidence.
If it does, who better to have saved us than Batman?